Compatible with Festool 5-inch (125mm) round pad sanders.
Introducing Festool's all new Granat abrasive, one that we have come to refer to as the "Ultimate Abrasive," due in no small part to its amazing versatility. Though originally designed for use on solvent-based, high-VOC surfaces (volatile organic compounds) and hard surface paints, its anti-clogging properties are well suited for a much broader range of applications. Use Granat not only for sanding and finishing clear coats, plastics, mineral-based surfaces, solid surface materials and acrylics, but also for wood, composites, or just about any other surface type. A hardened aluminum oxide abrasive with ceramic grit and stearate coating, Granat is available in grits ranging from 40 to 500 for Festool Sanders, and from 120 to 800 in perforated roll form. A broad assortment of pack quantities are available.
The all-new Granat abrasive by Festool is a ceramic-grain coated abrasive material that was developed specifically for commercial applications in the industrial paint and woodworking industries. What's different about the Festool Granat abrasive? Well, depending on the application, Granat can easily deliver anywhere from five to ten times the life of standard aluminum oxide abrasives! The Granat abrasive's performance is nothing short of AMAZING! The open-coat application of ceramic particles to the backing material resists clogging and extends the overall life of the abrasive well beyond what you could normally expect from more conventional abrasives. We decided to see how Festool's Granat abrasive would perform in the shop or on the jobsite. And, according to the tests we performed, these super-sharp ceramic abrasive particles cut through our test material very quickly, but without burning the workpieces. We subjected the new Festool Granat ceramic abrasive to some truly brutal tests and they came through with flying colors on all fronts! Yes, they're a bit more costly than aluminum oxide abrasives... but you can believe us when we say... They're well worth it! Order yours today and prove it to yourself under our Risk-Free, 30-Day, Money-Back Guarantee! The Festool Granat abrasive has a sub-micron crystalline structure in each grain. This enables individual grains of the ceramic aggregate material to "self-sharpen"-- which continuously exposes fresh, sharp cutting points during sanding. It's a premium abrasive for hard-to-sand material in high performance, high productivity applications. Unlike many other sanding products, the high performance level is maintained from start to finish for optimal usage and extended lifetime of the Granat abrasive. This ensures a more economical work process for all of your sanding projects-- even under the most difficult conditions. In combination with the anti-static system of Festool sanders and Festool CT dust extractors. You can now build a perfect sanding solution and achieve the best surfaces possible...no matter what the application or material.
Festool offers a fully integrated sanding solution for all your applications, from aggressive stock removal to superfine, finish sanding. With a complete line of abrasives in a wide assortment of different types and grits ranging from 24 to 4,000, Festool has the perfect paper to meet your specific application needs. Festool abrasives, with their high tech coatings, provide maximum resistance to clogging and smearing, which means longer lasting abrasives and less rework. Save money by reducing costs and achieve consistent, high-quality results.
FEATURES:
Extreme high performance

Better overall life time

Innovative design of grit type produces better appearance

Saves time and money over the long run
FESTOOL ABRASIVES GUIDE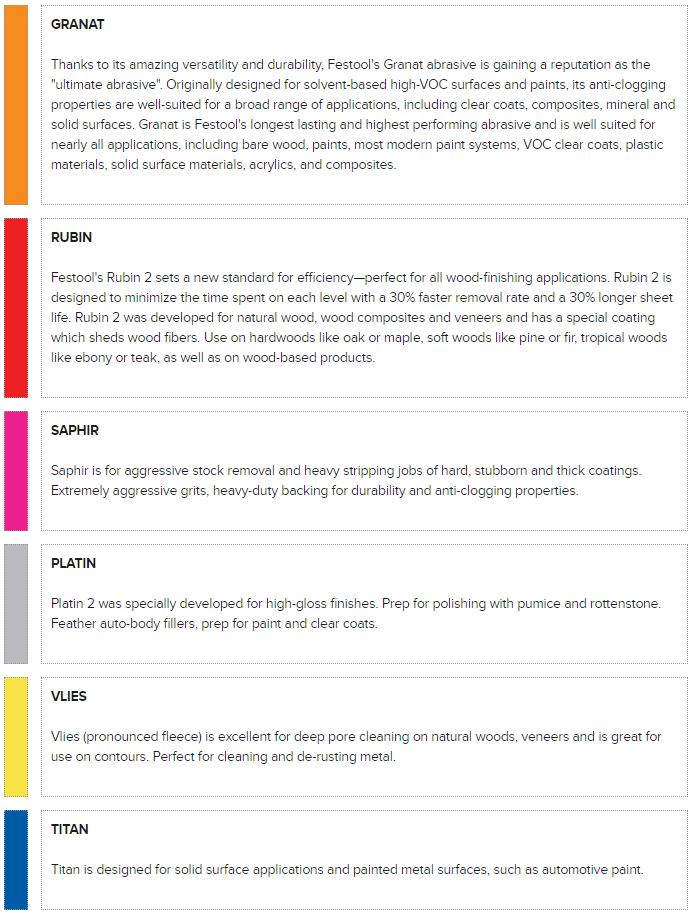 Three Years of coverage. 48 Hours Turnaround Period.